Profile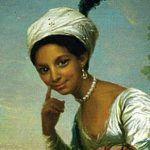 Dido Elizabeth Belle
What was the time period like?:

What was the Georgian Era like?

The Georgian period began with King George I in 1714 and lasted 116 years until 1830. The Georgian era was named after the succession of four King George: King George I, King George II, King George III, King George IV, otherwise known as The Hanoverians. The later Georgian period is also known as the Regency era. The Regency era ran from 1811 – 1820, which was well after Dido Elizabeth Belle died in 1804.

Summing up an era of over 100 years is a tricky task. The era saw religious and political changes including the first prime minister of Britain. By the Georgian era, the wealth gap between the poor and the rich had grown.

It was a period of continual war and conflict. There were domestic uprisings and rebellions like the Jacobite & Irish Rebellions. There was also international wars and revolutions like the Seven Years War with France, The American revolutionary war and the Napoleonic wars.

During the 18th century, the British Empire & colonialism continued to expand, one of the driving forces being the British East Indian Company. The East Indian Company won the Battle of Plassey in 1757, which secured a foothold British rule in Bengal.

The mid-1700s is also the era considered as the beginnings of the industrial revolution. The industrial boom was underpinned by the wealth and resources Britain gained with the oppression and exploitation of the Transatlantic slave trade and the expansion of the British empire. The Industrial revolution would peak in the following Victorian Era.

Alongside the industrial revolution was the growth of cities. The Georgian era developed distinctive architecture – You can still find examples across Britain in cities like Bristol, Bath, and parts of Liverpool, Newcastle, and Edinburgh. Other elements remembered from the period include classic novels of Jane Austen, romantic poets of William Wordsworth, John Keats.

Significant events during The Georgian Era:

1721 – Sir Robert Walpole became the first Prime Minister of Britain

1753 – The British museum founded – opening in 1759

1756 – 1763 – Seven Years War – A war primarily between Britain (& allies) and the French (& allies).

1768 – First voyage of Captain James Cook (explored south pacific)

1772 – Somerset Case (See Below – Section on the influence on modern day)

1775 – American Revolutionary Wars until 1783. America declared independence in 1776.  Britain did not recognise their independence until 1783.

1789 – Beginnings of the French Revolution

1796 –  Edward Jenner began his development of smallpox vaccination

1799 – Ending of the French Revolution

1801 – Act of Union – combined Kingdom of Great Britain and Kingdom of Ireland

1803 – Napoleonic wars begin (end 1815)

1805 – Battle of Trafalgar – Lord Nelson Died in Battle.

1807 – Slave Trade Act – Abolishes the Slave trade in the British Empire. However, it did not abolish the practice of slavery. It remained legal in most of the British Empire until the 1833 Abolition of Slavery Act(Implicated in 1834.) Loopholes remained; there was an introduction of 'apprenticeships', which was slavery by another name, they remained until 1838. Slave owners were paid compensation for their 'loss of property', which the British taxpayers only stopped paying in 2015. Those enslaved received no such compensation.

Other figures living at a similar time to Dido

Abolitionist: Hannah More (1745-1833), Granville Sharp (1735-1813), Olaudah Equiano (1745 – 1797), William Wilberforce (1759-1833), Ottobah Cugoano (c.1757-c.1791), Ignatius Sancho (c.1729 – 1780)

Wolfgang Mozart (1756-1791) Composer

Ludwig van Beethoven (1770-1827) Composer

Samuel Taylor Coleridge (1772-1834) Poet

Horatio Nelson (1758-1805) Admiral

William Pitt the Younger (1759-1806) politician & the youngest prime minister of Britain

Toussaint Louverture (c.1743-1803) Hattian General

William Cowper (1731-1800) Poet

Captain James Cook (1728-1779) Explorer

What was life generally like for Black people in this time period?

Historians have estimated Britain's black population to be range from 10,000 to 15,000 in Georgian Britain.

There were hubs of black communities that settled in port cities like London, Liverpool, and Bristol. London had the largest black population in Britain.

However, black people in Britain weren't limited to the port cities. Some worked domestically as servants, some as sailors, others were beggars, and some were even soldiers who fought for Britain in the American War of independence.

Still, many Africans were brought over to England enslaved, and many remained enslaved in England.

Others had been enslaved but had found freedom, such as Olaudah Equiano. Equiano bought his freedom and became an important figure in the abolitionist movement. He became part of the 'Sons of Africa' group, an abolitionist group in the late 18th century, which was made up of educated Africans in London, many of whom were formerly enslaved men.

There were a few exceptions, people who managed to accumulate wealth and status. Still, ultimately this was a time when Britain was one of the main forces within the Transatlantic slave trade. Therefore, most black people's contact with Britain in this period was dominated by the exploitation of the Transatlantic slave trade.

How does Dido's story compare, where do you think it fits in?

What influence have they had on Modern Day UK?:

Dido Elizabeth Belle is an important figure because of her unusual position in 18th century England. She was born to an enslaved African woman, a position which rendered her also born into enslavement under colonial rule.

The Somerset Case 1772

Many have placed significance on Dido due to her connection to her great uncle – Lord Mansfield. Lord Mansfield was a Lord Chief Justice from 1756 – 1788. Part of Lord Mansfield's responsibility was looking over cases that involved enslaved people.

In 1772, Lord Mansfield was in control of the Somerset Case.

James Somerset was an enslaved man who Charles Stewart bought in America and bought to England.

After escaping and being recaptured, Somerset was enslaved once more and sent on a ship bound for Jamaica, where Stewart intended to sell Somerset.

Lord Mansfield judged the case and concluded that Planters* could not forcibly transport enslaved people from England. *Planters were a group of people who bought and forced enslaved people to work planting and harvesting crops on sites called plantations.

Some planters were suspicious about Lord Mansfield's decisions regarding planters & enslaved people because of the presence of Dido Belle in his family household.

Lord Mansfield's verdict freed James Somerset. This decision freed James Somerset, but it did not abolish slavery which continued. However, the result was embraced by the abolitionist movement in Britain.

Sometimes the case has been overemphasised and thought to be an attempt to free all slaves in England. After the case, Mansfield acknowledged the continued legality of slavery in England.

Even in his 1782 will, he had to state Dido's freedom explicitly.

Losing and Finding Dido

Dido's story and 're-discovery' is a lesson about who is and is not remembered in history.

There is uncertainty surrounding Dido's story – where and when exactly she was born, the uncertainty surrounding her mother, Maria Belle.

The lack of information results from a lack of recording information because being a black woman in Georgian England was not the position that got recorded in the history books.

The portrait of Dido and her cousin Lady Elizabeth Murray (as seen in the profile's gallery) is one of the biggest pieces of evidence for Dido's story. Even that nearly disappeared.

Dido slowly disappeared from the records. By the mid-19th-century, records didn't name Dido in the portrait and an inventory from 1904 recorded Dido just as an 'attendant'. Dido or her status was not recorded, and Dido nearly disappeared from the records altogether.

This reflects how the colour of Dido's skin impacted how people saw her and her social position. From being recorded as a lady & cousin to being registered as a nameless attendant.

Dido was reconnected to the portrait in the 1970s by genealogists and historians.

Born: c.1761

Died: 1804

Time period:

Dido Belle lived from c.1761 to 1804. She lived through the 18th century – the 1700s – and into the early 19th century – the 1800s.

This meant Dido lived through the time period known as The Georgian era of British history. Dido would have experienced living in Georgian London.

Short Bio: Dido Elizabeth Belle was born to an English Captain in the Royal Navy and an African enslaved woman outside of marriage. Dido was raised by her great-uncle. Dido received an education, allowance, was brought up as a lady and was in charge of the dairy and poultry yard of the house. Find out more below!
---
---