Profile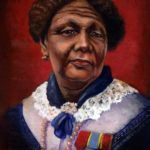 Mary Seacole
The Historian
The historian championing this figure

My name is Clara and I teach history in a school near Bristol. I teach students from Year 7 to Year 13. I am really interested in the stories and people that the history books often leave out.
What was the time period like?:

A this time health care was not good. Doctors did not really know the real causes of disease and still believed that illnesses were caused by bad smells or miasmas. As a result of this, the prevention and treatments for disease were not very effective.

Nursing was not a respected profession at this time. Nurses were not really seen as medical professionals with knowledge or skills and they were often not well educated.

In England there were limited opportunities for Black people and women at this time

What influence have they had on Modern Day UK?:

Lots of people know about the work of another nurse, Florence Nightingale, who also treated soldiers in the Crimean War but less people know about Mary and her work.

Mary Seacole's story is a wonderful example of how it is possible to
overcome barriers of age, race and class to achieve ambitions.

Mary helped to change he way nurses treated their patients back in England and made nursing a well respected profession. She showed how to nurse patients with respect and tenderness, even in squalid and dangerous environments. She showed the value of always being willing to learn as much as possible in order to improve nursing care. Mary also taught people about the importance of cleanliness in hospitals and at home as well as adequate nutrition and hydration being vital for the recovery of patients. She also showed the need for nurses to work well with other health professionals, such as doctors. These are all things that nurses do today an this is, in part, thanks to Mary Seacole.

Born: 23rd November 1805

Died: 14th May 1881

Time period:

Mary Seacole lived in the nineteenth century in Jamaica. At this time Jamaica was a colony of the British Empire.

Short Bio: Mary Seacole was a nurse who grew up in Jamaica in the nineteenth century. She was a nurse and helped soldiers in the Crimean war by giving them a clean and hygienic place to stay and a good diet so they could recover from their injuries and travel back to England. She wrote a book about her experiences and helped to transform how nurses cared for their patients.
---
---